Other projects
Mentha Park Budapest
The Mentha Park apartment block is situated in the heart of the city, next to a 23ha park with mature trees. It is an excellent residential development for young people who look for a city centre location, but also appreciate the proximity of nature.
The development is a few minutes walk from the underground METRO 3; the major universities of Budapest are within easy access, while the nearby Orczy park is a green haven. This is an ideal location for students, young professionals and young families with children.
Location: Budapest, 8th district, Diószegi Sámuel street
Number of flats: 104
Number of shops: 3
Number of parking spaces: 43
Structure: basement + ground floor + 7 floors
Gross floor area: 7500 m2
Investment value: HUF 1,5 billion
Sold 100%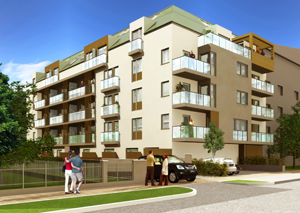 Casa Panna Cotta
A miniature Italy in the heart of Angyalföld: Panna Cotta House. Precious as cream and sweet as sugar. Apart from well-presented small apartments we offer special duplex apartments on the upper floor for families who want to enjoy la dolce vita.
The environment is completely rehabilitated; Panna Cotta House is surrounded by new builds exclusively.
Location: Budapest, 13th district, Rozsnyai street, no. 33
Number of flats: 38
Number of parking spaces: 39
Structure: basement + ground floor + 4 floors + duplex attic
Gross floor area: 3 000 m2
Investment value: HUF 800 million
Sold as a project